GeoSmart India: Igniting the Geospatial Revolution in the Indian Economy
GeoSmart India
Jul 17, 2023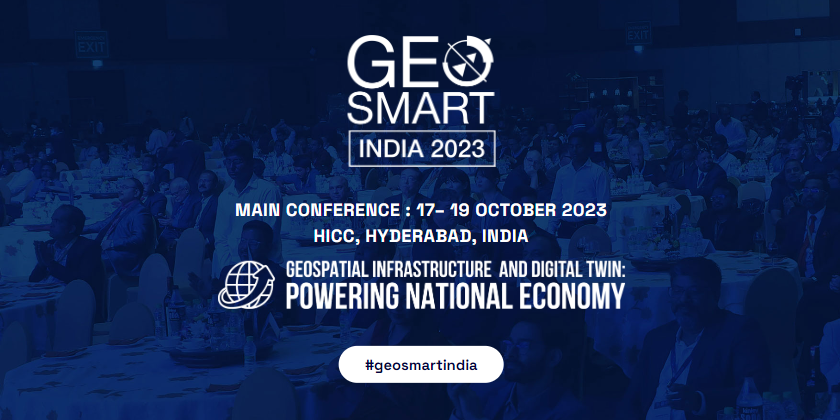 In todays era of technology and data driven decision making geospatial information has become a game changer, in industries. India recognizing its potential has actively fostered the growth of the related industry. Among the platforms that promote innovation, collaboration and knowledge sharing in this field, GeoSmart India stands out as a leading conference. Lets delve into the significance of GeoSmart India in shaping the economy and propelling the revolution.
Empowering Geospatial Solutions for Various Sectors
GeoSmart India provides a platform that brings together stakeholders from the geospatial industry, government entities, academia and businesses across different sectors. The conference acts as a catalyst for enabling solutions that have an impact on multiple industries such as agriculture, urban planning, transportation, logistics, disaster management, environmental conservation and more. By facilitating the exchange of knowledge and expertise GeoSmart India empowers participants to utilize technologies and applications to address challenges while uncovering new opportunities.
Advancing Digital Transformation
The digital transformation of India is a part of the governments vision, for building a society that is inclusive and sustainable. Geospatial technologies play a role in this transformation by providing data insights and analytics to support informed decision making processes.
GeoSmart India serves as a hub, for transformation showcasing the latest advancements in geospatial technologies like remote sensing, GIS, satellite imagery, LiDAR and artificial intelligence. It provides a platform for industry leaders to share success stories, best practices and innovative approaches that can be adopted across sectors contributing to the revolution in our country.
Empowering Startups and Entrepreneurship
In addition to being a conference for established players in the industry GeoSmart India also functions as a launchpad for startups and entrepreneurs. This event offers emerging companies an opportunity to present their solutions connect with investors and collaborate with experienced professionals in the field. By nurturing entrepreneurship and fostering a culture of innovation within the ecosystem GeoSmart India actively supports the Startup India initiative. Helps budding entrepreneurs thrive in this domain.
Supporting Government Initiatives
Recognizing the significance of technology and its potential to drive development across sectors the Indian government receives support from GeoSmart India. This support extends to government initiatives such, as Digital India, Smart Cities Mission, Atmanirbhar Bharat. Make in India. The conference acts as a catalyst for policymakers, government agencies and industry leaders to work together align their strategies and explore approaches to incorporating solutions into national programs. By encouraging collaborations between the private sectors, GeoSmart India contributes to the governments endeavors in utilizing technology for effective governance, infrastructure development and socioeconomic advancement.
Promoting Economic Expansion and Employment
The geospatial industry holds potential and GeoSmart India plays a pivotal role in driving its growth. By bringing together stakeholders from sectors the conference helps create an environment that fosters economic expansion. The adoption of technologies and solutions across industries leads to heightened productivity, optimized resource utilization, cost savings and improved service delivery. Additionally the growth of the industry directly translates into job opportunities for professionals such as scientists, researchers, entrepreneurs.
GeoSmart India has emerged as an event in the field of technology and related industries. It plays a role in shaping the economy by focusing on enabling geospatial solutions promoting digital transformation initiatives empowering startups supporting government endeavors driving economic expansion. GeoSmart India serves as a platform, for collaboration innovation knowledge sharing. India has the opportunity to realize its potential by adopting technologies. This will enable development, empower decision making, for a better future.